DEFx Honolulu (DEFxHNL) is a day-long DEF event in partnership with the University of Hawaii Army ROTC that focuses on the question "What does multi-domain battle mean in the Pacific?"
We'll tackle the challenge through the eyes of junior leaders at the cutting edge of today's operations. The event is open to all, civilian or military, interested in shaping the defense and security conversation in the Pacific.
——————————-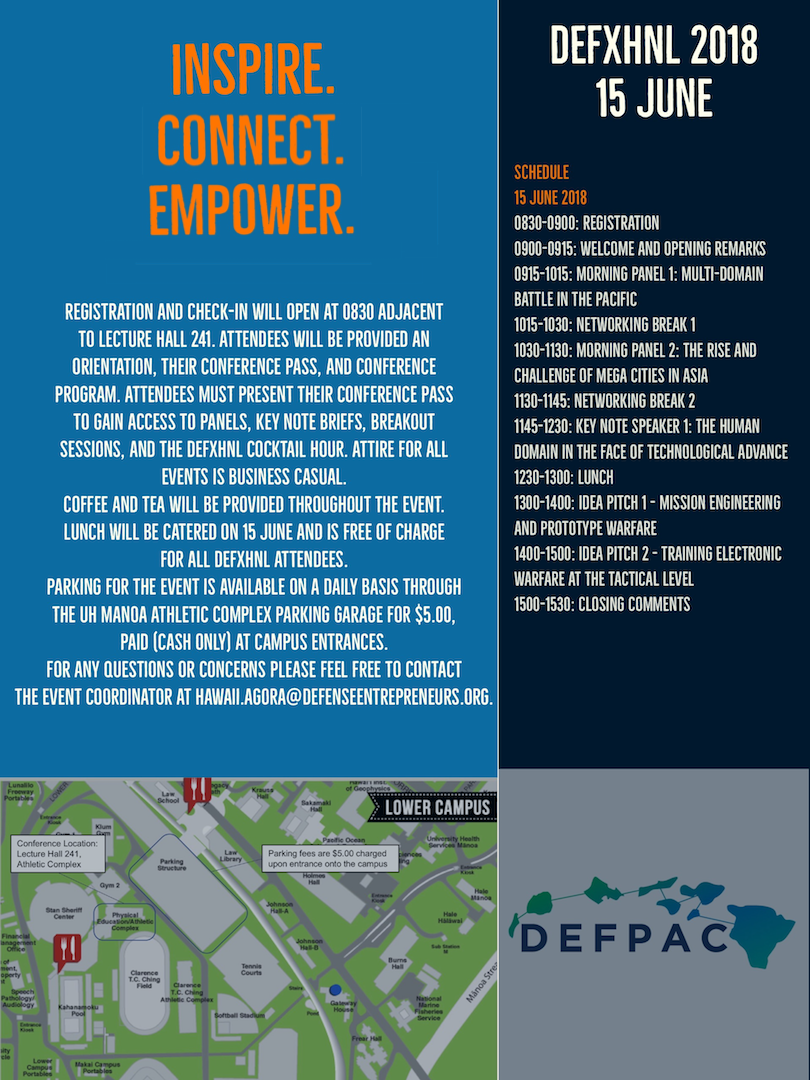 ——————————-
NOTE: Due to logistics constraints beyond the control of our on-site volunteers, the Saturday portion of the event is no longer able to be supported. We are very sorry about this, both for any inconvenience it may cause you, but also because it means that much less time to hang out! That said, it is still a packed day on Friday with lots of opportunities to engage, so please stick around all the way through the cocktail hour. If you have any concerns or questions, don't hesitate to reach out!
The Defense Entrepreneurs Forum is a non-profit dedicated to promoting and enabling a culture of innovation in the US national security community. The mission of DEF is to inspire, connect and empower people committed to national security through convening events, forging partnerships and delivery of tangible solutions. Some of the ways the connections happen include monthly gatherings, periodic DEFx events, an annual conference, and ongoing collaboration via Slack, Facebook and LinkedIn.
If you are a military member, work in government, are an entrepreneur focused on national security, or find the idea of helping solve tough problems enticing, then DEFxHNL is a great way to learn more.
---
FAQs
Why should I register? Taking the couple minutes it takes to register helps the local DEF team to better prepare the planned space for everyone who plans on attending. Thanks in advance!
What are my transportation/parking options for getting to and from the event? Parking may be available, but further details will be provided.
How can I contact the organizer with any questions? Feel free to message DEF any questions you may have on Facebook in advance, or shoot us an email. We don't like spam, but are interested in just about anything else that falls into DEF lanes, so, when in doubt, reach out! We are, after all, about connecting people.